Jack's Bay Update
Progress has been steady at Jack's Bay over the winter. The Playground by Tiger Woods Design is nearing completion and the Salt Spray Cafe will open this summer. The Pink House Beach Club is open with a full assortment of new equipment and programmed activities to help you make the most of your time on the unspoiled pink sand beaches of Jack's Bay. Come and see for yourself why Jack's Bay is the best kept secret in the Bahamas.
On the real estate front, the first subdivisions Jack's Bay North and the Golf Overlook Villas are available for sale with the first eight lots sold. Call us today at 866 323-2544 to learn more and ask us about scheduling your Discovery Visit.
Come See What Freedom's All About
Tiger Woods Teams Up With Jack's Bay
Jack's Bay offers the freedom to explore an unparalleled lifestyle highlighted by spectacular Tiger Woods-designed golf, distinctive real estate opportunities and an ocean of rewarding pursuits all wrapped in the timeless and welcoming flow of the Bahamian way of life. Jack's Bay is where freedom lies – on the beach, in the water, and especially, with the people.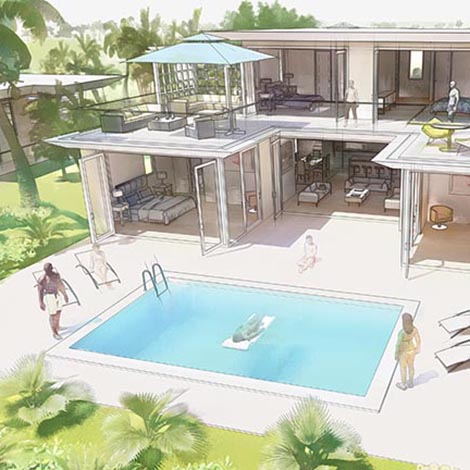 Spacious estate lots overlooking the ocean, beachside dream homes along the pink sand and an assortment of condos, club suites and bungalows deliver the luxury of choice for a residence in paradise. Build your dream home at Jack's Bay.
Whether it's waterborne fun at the Beach Club, a round of golf on The Playground, a myriad of relaxing activities or something that challenges the mind, body and spirit, Jack's Bay offers the support, expertise and equipment to enjoy them all.
Tiger Woods brings his sharp eye for golf course design to the shores of Jack's Bay with The Playground, a 10-hole short course overlooking the ocean. A full 18-hole course will follow to provide world-class golf to members and guests.